Entry Requirements:
To enter Honduras, you must present a U.S. passport with at least six months of remaining validity. U.S. and Canadian citizens do not need a visa; however, you must provide evidence of return or onward travel. For other nationalities, it is your responsibility to ensure your own visa requirements. No refunds will be awarded for customers denied access for lack of a proper visa.
Please be sure to read the special requirements for travel during the COVID-19 epidemic.
Contact Your Credit Card Company:
During your check-in process at Clark's Cay, you will be asked to provide a US$200.00 per room (or US$100.00 per person) Visa or MasterCard credit card authorization deposit against incidental charges incurred during the stay.
You must contact your Visa or MasterCard credit card company in advance and advise you will be in Honduras, to avoid charges being declined. We do not accept American Express or Discover.
Travel Insurance:
We are not responsible for compensating or crediting any traveler for any loss incurred due to delays or cancellations. Due to the limited flights into and out of Guanaja and Roatan, Trip-interruption/cancellation insurance is your only protection and should be considered mandatory. We highly recommend you purchase either coverage from our trusted provider via this secure link: www.itravelinsured.com. We also encourage all divers to have Dan Master Insurance Plans.
Dietary Restrictions:
Due to our small size and remote location, we offer a limited menu and must provide in advance for our guests. It is critical therefore that guests with food allergies or dietary restrictions notify us of their circumstances well in advance. This and other information can be provided to us via the guest questionnaire.
Dive Gear Rental:
If you opt not to bring your own gear, we have all new Mares weight integrated rental BCD's in a variety of sizes as well as new regulators with computers, full foot fins, masks, and snorkels. We also have wetsuits, but in limited quantity, so you may wish to consider bringing your own. Be sure to tell us in advance of any dive gear rental requirements on the guest questionnaire.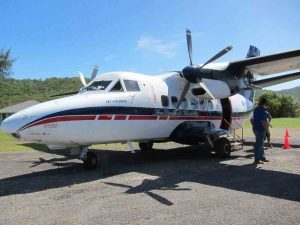 Getting to Guanaja does take a wee bit of effort, but this is what helps keep it so pristine. Once you arrive, it takes no time to realize you are somewhere off the beaten track.
August 27 Update:  Although the borders have reopened, flight schedules have not yet returned to normal.
There are options available for flying to Guanaja via San Pedro Sula and Roatan.
Please contact us or your travel planner before booking your flights into Honduras. We want to be sure you have the most up to date options for reaching Honduras.
Once you have your international flights into San Pedro Sula or Roatan worked out, our reservations team will book your round trip inter-island flights for you.
Carry-On Luggage: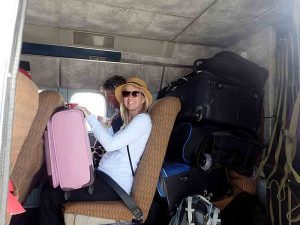 Airline luggage restrictions are constantly changing. Be sure to check your airline's web site(s) for the most current information on baggage allowances and restrictions. Space is limited on the inter-island planes as there are NO overhead compartments to stow luggage that normally qualifies as a carry-on. You are allowed one small carry-on bag and checked baggage totaling 50 lbs. for free. Additional baggage at additional charges of up to $1.00 per pound is allowed at the airline's discretion. Pack one change of clothes, flip-flops, and a bathing suit in your carry-on, just in case luggage is delayed. Other "trip essentials" to carry with you should include your diving C-Card, DAN or other dive insurance card, medicine, sunglasses or anything you consider necessary to begin enjoying your stay the moment you arrive.
Clothing:
Dress at the resort is very casual, so pack whatever makes you most comfortable; shorts, t-shirts, lightweight tops, pants, skirts or dresses. No reason to overpack as the resort offers complimentary laundry service! Water shoes and/or light hiking boots are not necessary, but nice. A windbreaker or rain slicker should be considered.
Toiletries & Sundries:
We provide shampoo, conditioner, body soap and hair dryers in the bathrooms. Towels (including beach towels) and all linens are provided.
Gadgets:
Please bring your own travel alarm clock if needed. The electric plugs in your room are the standard US 110 V plugs. European visitors will need to bring their own adapters. Don't forget the camera! Binoculars and a flashlight are always a good idea.
Bug Spray:
Due to our island location and rocky shoreline, we are generally not bothered by mosquitoes and sand flies to the extent mainland locations are. However, you will likely want to visit mainland Guanaja or other cays during your stay, so we still recommend you pack insect repellents such as OFF or Cutter. Also, consider packing Hydrocortisone cream or other anti-itch cream and Benadryl Tablets.
Sun Protection:
Be sure to pack a hat, sunglasses and plenty of sunscreen. Sun shirts are nice to have as well.
Batteries:
Your devices and dive equipment might require special batteries. Some batteries are difficult to obtain on Guanaja. Please bring your own spare batteries with you.
Restrictions:
You may bring items that are for your personal use including up to 2 liters of alcohol without paying import duties assuming the items are appropriate for your trip. The items may not be for commercial use such as goods for resale. Scuba divers should not bring spear guns. They are prohibited on the Bay Islands and will be held at the airport until you leave the country.
Supporting Our Pack for a Purpose Efforts:
We are proud members of Pack for a Purpose, an initiative that allows travelers like you to make a lasting impact in the community at your travel destination. If you save just a few pounds/kilos of space in your suitcase and take supplies for the projects we support in need, you'll make a priceless impact in the lives of our local children and families. Please click here to see what supplies are needed for our project/projects.
When arriving at the airport in Roatan, you will go through customs and collect your luggage. If several flights have arrived at the same time, there may be a special expedited line open for in-transit passengers. Inform one of airport volunteers/greeters who help manage the queue that you are flying on to Guanaja. They may be able to assist in expediting your process.
Once through customs, you should seek out the assistance of a yellow or blue-shirted baggage handler who can help you with your luggage and get you checked in to your onward flight. Guests can feel comfortable utilizing their trustworthy services and tipping them will be greatly appreciated.
Once checked in, you can then proceed through security to the departure terminal to await your flight to Guanaja. There is a small snack shop inside the terminal that sells excellent sandwiches and drinks!
We are still in the process of establishing procedures for guests traveling via San Pedro Sula.  Please check back again!
Arriving at Guanaja Airport:
You will be greeted by Clark's Cay representatives who will collect your luggage and lead you to the boat dock and transfer boat. (There are no roads on Guanaja. All transportation is via boat.) Once all luggage is accounted for you will depart for the 15-minute ride to the Cay.
Arriving at Clark's Cay:
Your luggage will be delivered to your Cabaña for you. You will be asked to meet in the reception area inside La Casita shortly after arrival to complete your registration followed by a short orientation and a Managers Welcome Party with snacks.
Time to Relax!!