Romance
Your love story is unique and your wedding should be too!
Your special day will be one of the most important in your life. It will also be one of the most memorable…especially if held at a private island in the midst of the Caribbean Sea!
Rent the whole island and bring all your family and friends for the week, or host your wedding as a private one-day event.
Your special day will be one of the most memorable...especially if held on your private island
Resort Wedding Venue: $1,500.00
Ceremony location of your choice on the grounds.
A Pastor to guide you through your "I Do's."
Flowers with a bouquet and boutonniere.
A guitarist playing your favorite songs as you arrive.
An exclusive 3-course meal with a bottle of champagne set up on the private beach.
A petite wedding cake to commemorate the special occasion.
Local Island Transportation
Guest Seating
Reception Package: * Starting @ $ 75.00/pp
Welcome Cocktail Station
Popcorn Station
Hors D' Oeuvres
Main Entree with 3 sides
Dessert Station
Tea & Water
Cash Bar
* Customizable Menu Options Available
Optional Beverage Services
Sunset Bar Package: Includes local beer and soda, house spirits, house wine by the glass. @ $ 30.00/pp
Palmera Bar Package: Includes the Sunset Bar Package, plus premium spirits. A true Open Bar! @ $ 50.00/pp
We can offer a pre-purchased quantity of a cocktail created especially for your event with Rum, Vodka, Tequila, or Tropical Non-Alcoholic Beverage.
Entertainment Services
Photography & Videography
Solo guitarist
Independent Party Planner
Ceremony Pastor
Legal Fee Package
* Prices Vary
Honeymoon Package: $ 150.00
Flower petals and a Bottle of Wine
Sweet Nibbles
Two Relaxing 60-minute Massages
* Accommodations Extra
Paint Your Lover Amenity: $ 40.00
Home made delicious and edible "paints". All you need to provide is your "canvas" and a creative flare!!
Other Options
Local Island Transportation
Guest Accommodations Available
Escapade– An elopement package for couples who value their privacy or just want that special moment for themselves, in our exclusive resort carefully coordinated for that purpose.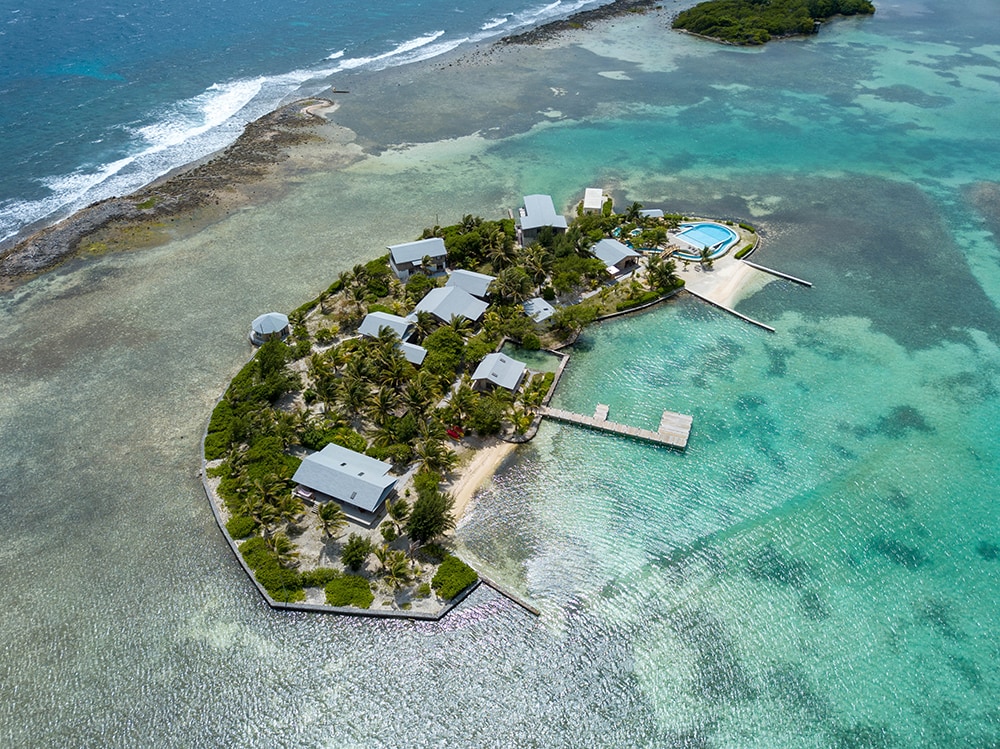 Up to 20 guests
Private Island Rental
$43,000
Seven night, Saturday to Saturday Private Island stays are $43,000 plus 19% tax for travel through December 20, 2019. This includes up to 20 guests including your accommodations, up to 3 dives daily, unlimited Nitrox, rental gear, 3 meals daily plus an afternoon snack, daily housekeeping and all standard services, full open bar (including specialty drinks and call brands), use of sea kayaks, stand-up paddle boards, boat transfers to and from Guanaja Airport, and any tours conducted by Clark's Cay staff including snorkel tours, picnic lunches, trips to the beach, tours of Bonacca Town.
Learn More